You are invited!!!
What
: Southeast Florida
Regional SART Training 2018
Date
: September 21, 2018
Time
: 8:30 a.m. - 4:30 p.m.
Breakfast and Lunch are provided
Address
: Boca Police Department
Training Facility
6500 N. Congress Ave.
Boca Raton, FL 33487
Learning Objectives
: Identify gender bias in everyday interactions between victims of violence, perpetrators, and practitioners. Click on the image below to read more...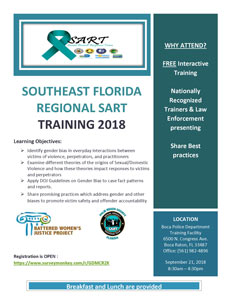 Registration
:
https://www.surveymonkey.com/r/GDMCRZK
Cost
: Free
Contact
: Serenia P. Beckton (561) 625-2565 or
spagebec@pbcgov.org